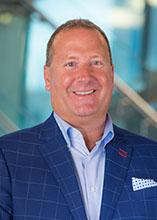 Vice President of Channels
Skip Liesegang is responsible for developing, building and executing a growth strategy to accelerate the impact public sector partners have on DLT's growth. Liesegang is a recognized expert in IT sales, marketing, distribution and business development, bringing more than 30 years of industry experience in government and commercial markets as a manufacturer, solution provider and distributor.
Prior to joining DLT, Liesegang served as the Director of Channels and Distribution for the Americas over the last four years with NetApp, served as the Vice President of Channels at immixGroup for seven years, and led the Public Sector channels for seventeen years at Sun Microsystems. He is a frequent industry speaker, author of articles for various IT trade publications, and the 2013 Computer Reseller News Channel Champion awardee.
Skip has participated in many channel advisory boards and founded the Government Channel Leadership Council in 2009. He holds a Bachelor of Science from James Madison University and a Master of Business Administration from Averett University.